SuperPATH Total Hip Replacement
Advances in surgical technology have improved the longevity and recovery time for total hip replacement. One such technology, a new hybrid approach known as a Supercapsular Percutaneously-Assisted Total Hip, or "SuperPATH", involves sparing the surrounding soft-tissue (muscles and tendons) when performing total hip replacement surgery. This technique builds a traditional hip implant in-place, without having to cut any muscles or tendons. Additionally, this is done without having to dislocate-relocate the hip during the surgery, a common element to all other hip replacement surgery techniques (such as the anterior, posterior, lateral, or 2-incision approaches). Potential advantages are:
Shorter recovery time - many patients can be discharged from the hospital within 23 hours
No activity limitations
Less pain
Decreased dislocation risk
Less scarring
Easier exposure for future revision surgery
More natural feeling hip
Additionally, the SuperPATH approach is completely adjustable, and can easily be converted to selectively release individual muscles, allowing the surgery to be adapted to the patient in terms of implant selection and patient anatomy, while still remaining less invasive. Thus, this approach does not "pigeon-hole" the surgeon to make compromises in the surgery, especially if reconstruction is particularly difficult. Because this approach is completely adjustable, patients can rest assured that they will receive the most appropriate reconstruction, regardless of the incision used.
Dr. Sol Qurashi is one of many international surgeons who have visited us to learn this technique. His video provides an excellent overview.
Information about the origins of this hybrid approach can be found at:
---
Click on the thumbnails for enlarged view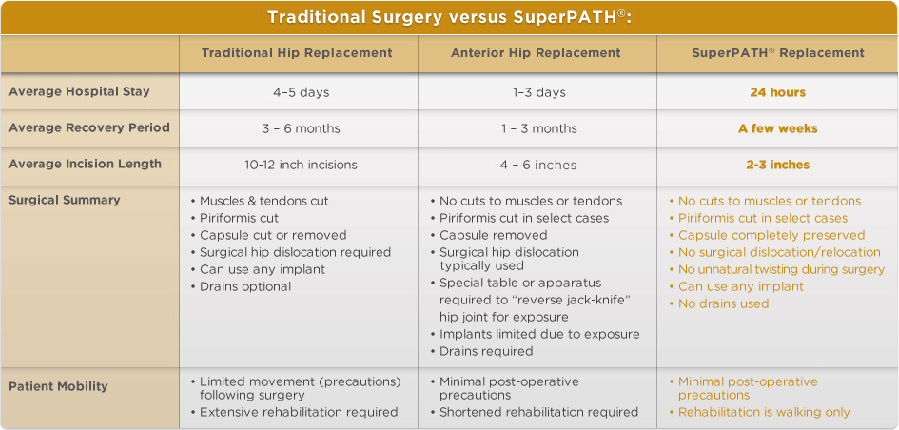 ---
Total Hip Replacement Arizona
---
6 Days After Superpath Left Hip Replacement
---
SuperPATH Interview 1 (1 week post-op) - Medical tourism
---
SuperPATH Interview 2 (2 weeks post-op)
This video is mislabeled. This patient was doing so well, he mis-spoke during his interview. This interview, including the golfing, occurred at 2 weeks post-op, not 3 weeks post-op
---
SuperPATH Interview 3 (3 weeks post-op) - Bilateral hip disease
---
SuperPATH technique